Spokesters make a great point of purchase impulse buy—they tap into the nostalgia of childhood and prompt adults to want that feeling for their children and grandchildren. They're the ideal size for party favors or stocking stuffers and are a particularly hot commodity during the holiday season.
Put a countertop display at your point of purchase and watch it empty out over and over again.
---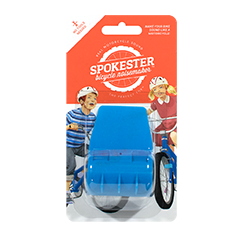 Individual packaging
Spokesters are packaged in an eye catching blister card which displays the product prominently. The card is designed with a standard hang tag opening with standard UPC codes on the back.
Dimensions: 3.5" wide x 6.75" tall
---
Countertop display
Call attention to your new product offering and explain at a glance what it does from across the room! Holds 10 Spokesters at a time.
Dimensions: 9" wide x 11.5" tall x 9" deep